OAS - Osservatorio Astronomico Sormano
OAS > PRISMA Project: Italian Network for meteors observations and trajectory studies
Sormano Astronomical Observatory: PRISMA (Prima Rete Italiana per lo Studio sistematico delle Meteore e dell'Atmosfera)
Last update: March 23, 2021
Contact: Francesco Manca ( obs.sormano@alice.it ).
---
PRISMA (Prima Rete Italiana per lo Studio sistematico delle Meteore e dell'Atmosfera) is a collaboration initiated and coordinated by the Italian National Institute for Astrophysics (INAF) that counts members among Research institutes, Associations, Schools (the complete list of PRISMA members is available at www.prisma.inaf.it )
The project started with an All-Sky camera installed at the INAF Observatory of Pino Torinese Italy in cooperation with the existing French project FRIPON. In this way it was possible to test the real performance of the project having the goal to observe and record the fireballs, calculating their trajectories and orbits, reducing the uncertainty area where fragments can be find out before the possible contamination of the terrestrial environment.
Diagram of succession of events per year (source: PRISMA)

For more details see the LINKS section
---
Afterwards to the first test, seven camera were connected in the north of Italy within the end of 2016,
more other cameras were scheduled to be installed at INAF or Amateur Astronomical Observatories and
public facilities in order to cover a 100 km area among them.
Camera Specifications: Basler acA1300-30gm
CCD Sensor
Sony ICX445
Frame Rate
30 fps
Resolution
1.3 Mpx (1296 px x 966 px)
Sensor size
4.9 mm x 3.6 mm
Pixel size
3.75 μm x 3.75 μm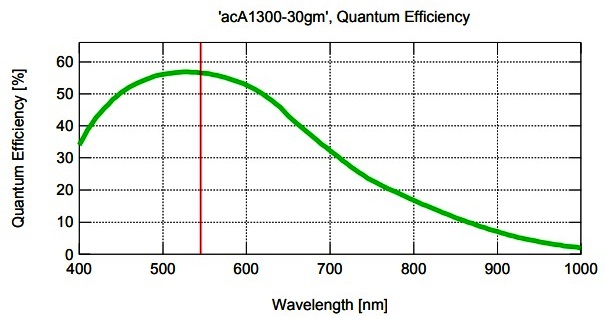 The detection of fireballs for all PRISMA's camera is made thanks to the FreeTure (Free software to capTure meteors),
software developed by the FRIPON team under Linux-Debian OS and installed in the mini-PC connectged to the camera.

At the beginning of the year 2018 n.20 All-Sky camera were in operating status, so at this time
Sormano Astronomical Observatory received the request to join the project covering its area in the North of Italy.

(click on the map for the current stations list)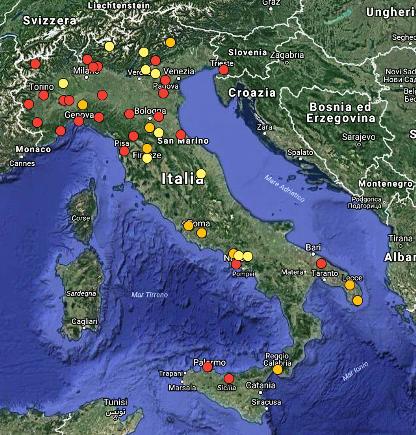 The cooperation to the PRISMA project started in May 2018 when the All-Sky
camera has been installed and connected to the network in operative status.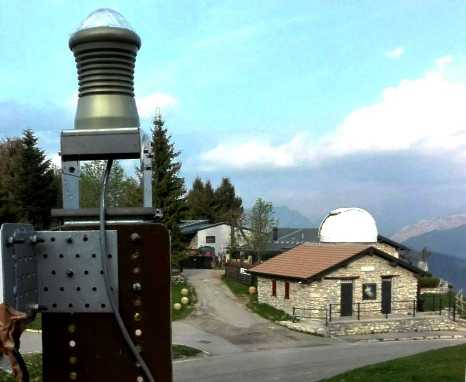 Station code ITLO02
Geographic coordinates WGS84

Longitude
9° 13' 42".89 East
Latitude
45° 52' 58".80 North
Height
1131 m, MSL
---
PRISMA CAMERA: IMAGES and VIDEO of FIREBALLS
---

August 22, 2018 T21:37:40 UTC

January 24, 2019 T20:59:08 UTC

March 26, 2019 T18:55:34 UTC

March 27, 2019 T19:07:43 UTC

January 01, 2020 T18:38:46 UTC

March 22, 2021 T22:18:36 UTC
---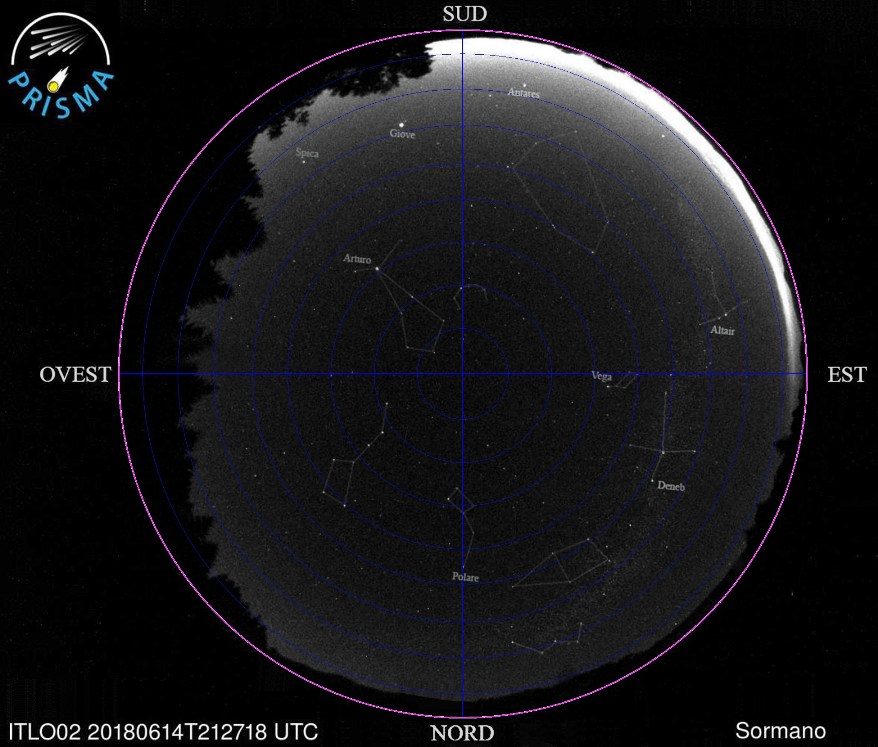 ---

For more details about PRISMA project:
PRISMA, Italian network for meteors and atmospheric studies
Proceedings of the International Meteor Conference (Authors: Gardiol, D.; Cellino, A.; Di Martino, M.)
Fireball report/Segnalazione bolidi
Segnalare un bolide al progetto PRISMA scheda di segnalazione)

PRISMA: educational activity
Materiale didattico/Educational material


meteora del 1 Gennaio del 2020
TROVATI PRIMI FRAMMENTI DI UNA METEORA GRAZIE AI DATI RILEVATI DALLE CAMERE DI PRISMA

---
FRIPON project:
FRIPON (Fireball Recovery and InterPlanetary Observation Network)
100 camera network which goal is to monitor France skies

"Sky and Telescope" FRIPON: all-sky meteor network in France

Shelyak Instruments


Supplier and technical support for FRIPON/PRISMA network
---
(IMO) International Meteor Organization:
International cooperation of meteor amateur work

---
NASA All-Sky Camera Network :
Intro to Meteors - Meteoroid Environment Office

NASA's All Sky Fireball Network

NASA's Meteoroid Environment Office

---
JPL CNEOS Fireballs, event's calculated total impact:
CNEOS: Fireball and Bolide Data reported by US Government Sensor

---

Back to Sormano Astronomical Observatory Home Page

Web Curators: M. Carpino, F. Manca
Last modified: March 23, 2021